- Italy -
( Italia )
don't be surprised that the heading is a bit small, that's by intention. 'Cause what I experienced the first days in Italy cannot be identified with "Italy". It belongs under the heading

- Moloch Adria -
My diary begins accurately like this; and continues:

Camp in the evening on the "Belvedere". Payed a visit to three other camping sites before, though. Prices are 30,000 lire and far beyond that - 20 US$ and more for a place to pitch up a tent!!
Had prejudices opposite Italy - and me made, wenn's is also not easy to diminish this.
Well so certainly not. My mood had deftigen crack suffered as it by the " region a Triest " went already yesterday.
Whole 30m separates me from the sea, from which also still another rigid Brise over here blows. Smell do ' I from him however nevertheless nothing. Everything which my nose takes up is the Gestank by auto mixed with the smell of sun oil.

My " taking ability " auf's extreme ones stressed in these days.
Venice behind me, I withdrew therefore from the coast and radelte myself from now on by the agricultural large cultivation areas of the Po-level. Sounds themselves perhaps not madly is however nevertheless quite beautiful. Few traffic, small roads, pleasant places and friendly humans.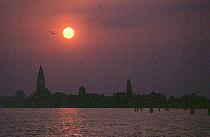 - San Marino -
( San Marino )
Planned had San Marino had to visit. Unfortunately San Marino turned out magnet however as a tourist. And there the container of my " taking ability " was still plentifully filled the attendance short hand was deleted. Instead I scratched as it were on the 258 hair sharp to it past.
If from the direct attendance also nothing became, from the distance (few kilometers only) the rock with its Oertchen makes a mad impression.

It continued to go on the E78 to Arezzo and Siena. Perhaps well I had selected myself a distance there!!
Equivalent on two distance paragraph of for instance 15km length ging's literally by a spalier of prostitutes. Every few hundred meters one. On the hellichten day

Offer
---
prostitutes are to supply on one of the many small lay-by and converse. Just in the instant as I looks makes one of the two a movement which I as greeting understands and greet friendly back. It stutzt one instant, then it schallt " ficken?" [ on German! ] back!
From as much directness geplaettet I concentrate fast again on the road and drive myself my way.

Arrived at Piombino I would like to embark myself after Korsika. Next ship tomorrow noon. Thus spend the remainder of the daily (and also the night) at the port and look yourself a driving on
Unbelievably, how many humans drive to Elba. A line drives once per hour with further ferries inserted, a second line drives a similar clock. And all ferries are well filled.
My God, which people masses.

At the time, but my " taking ability " was not noticeable to me, in order to remain with the term was again at the full impact.
Which I felt against it was the demand a quiet Plaetzchen to find somewhere around a few days to stretch correctly to switch off. I seemed myself literally " burned out " The grind and the faint in relation to these eternal people masses had cost me obviously all my strength.
Korsika seemed to be me in addition the correct place.

Ferry Piombino - Bastia: Moby Lines
Ferries Genua - Bastia, Livorno - Bastia: Corsica Marittima, Corsica-Sardinia-Ferries, Moby Lines
- Corsika -
( Corse )
One of the absolute high points of the journey!
While most Radler apparently the coastal routes follows I times again my own route together-knitted itself. Which the travel (whom wundert's - as a mountain fan) too ' more ner only pass up - Pass off - Travel to become left. And one the absolute extra class. A ramp more beautifully than the other one, a departure with madder prospects than the other one.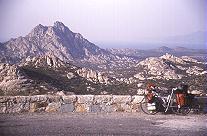 I have to mark and in rare cases additionally with one or even two exclamation marks provide the habit particularly beautiful distances on the card with a green zigzag line.
On Korsika even the " two exclamation marks " accumulate themselves up!

Logbook summaries of some routes
Col de Verghio

1477 m

.. and how beautiful! .. unbelievable Canyon! Absolutely grandios!! .. fantastic scenery

Col de Sevi

1101 m

... steep (but really steep) uphill; The sun in the face do the mountains towards the coast appear in gradated grey tones and leave an unbelievable impression.

unnamed

1193 m

.. but the downhill on this small, worst condition road is unbeatable! Extremely steep, extremely bad, extremely narrow. Unbelievable fun!

Col de Sorba

1311 m

Grandiose ramp uphill ..; Same applies for the way down to Ghisoni.
Col de Verde

1289 m

While the top of the pass is relatively unspectecular are there outstanding scenic views short of and after the pass ..

Col de la Vaccia

1199 m

Unbelievable scenic views of desolate mountain landscapes ..

Col d'Ilarata

1008 m

One can hardly call it a pass, it hardly goes uphill, but the scenery is all-outstanding. Right through the rugged mountains I saw yesterday from the distance!!

| | |
| --- | --- |
| | |
Like already I had marked this feeling already before Korsika " to be burned out ". A break absolutely needed; Or simply somewhat completely different one than radeln.
In Korsikas it disappeared to mad mountain landscape however completely and I seemed cured.
A last night in Bonifacio, then should go it over there to Sardinien.

The mad impressions Korsikas behind me however immediately again this emerged " burned out its " Still to it substantially more strongly than before. If no more desire had, wanted to switch off only raus, away My diary entry on the day looks in such a way:

Longing after silence
Thoughts curve back to the Camps in the Yukon, in Saskatchewan, and also Australia...


Me had already put to sleep. Then however nevertheless still times a few lines (in the other booklet) written. Go again to the toilet.
Seat ' in the dark upright in the tent, which levers before the knees, waits. On silence.
No silence. Murmurings here, murmurings auto drives past there, in front, toilet door slams, engine becomes angeschmissen, driving off auto. Briefly drauf a motorcycle. Still murmurings.
Longing after silence.
At the dearest wuerd ' I n ticket buy '. To Australia, in the Outback. Or in the Yukon after Canada.
Other question emerges. It continues to go now to Sardinien, Sicilies and Malta. Where am I to find silence there? Where, if not here on Korsika? [ in lonely corners in the high mountains? ]

- Sardinia -
( Sardegna )
Sardinien became somewhat completely special one.
Because of my Unlust too radeln I had to follow cord TRACKS before the west coast and then after Cagliari to pedals. Sardinien " would have flown through " literally.
For any reasons I bent instead however off to the east coast. Faehrinfo for my later connection Cagliari - Trapani caught up, course ticket bought, and off after Cagliari.
Impact equal three flies with a flap: goenne me the here-longed wheel break, can do me times again my second passion - the course driving - hang-evenly and leave Sardinien additionally as practically " unberadeltes " area open for future routes!
The days in Cagliari are indescribable!
From the small Pensione, in which I find accomodation, sind's a few stairway steps only, and I enjoy a breakfast under arcade courses; a few meter only, and I is supplied with Baguette, vegetables and fish - after three days already as a regular customer! A few meter more only, and which leaves beautiful old part of town to one into itself to dive.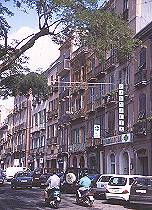 - Sicily -
( Sicilia )
Sicily became likewise something special one. However to a good section in the negative sense.
I met very nice and unlocked humans; and also the landscape found quite beautiful. But one let look me up as soon as possible width: the garbage!
I drove tiny ways, small Straes, and also large main streets. One was however all the same: the garbage. In large amounts, in great quantities, everywhere. Both sides the roads, incessantly.
In principle it should constitute me not much; but if I do not find before loud dirt times a workstation over for a rest to continue? Particularly if one belongs to the people gladly times at the road / edge of way in the grass or on rock sits down, a Happen eat, ' nen sip drink, or also only ' ne break insert around the area to admire.... Who makes already gladly stop on a dumping ground??
There is not times only the tourists, who leave the dirt. Once a local resident one with the trecker came started, continued, tilted a trailer fully with Unrat to the roadside and drove again of it. I was saw cordially served as
As I already at the start suggest has Sicilies in addition, more positive pages to offer. One of it - with tourists particularly likes - are the beautiful sunsets.
.. Pozallo ..
---
seats on the exterior of the port mole between the large rock. Beautiful weather (25 degrees, blue sky) and (finally) the smell of the sea in the nose. A fresh wind blows it over here.
Switch my small world recipient on
Plays even " Wouldn't it good.."
Malta can come.!
" Can't stop thinking OF you.."
- Malta -
( Malta )
First impression:
deterring! The whole coast is one single tourist concrete block.
Second impression:
breath-taking! The travel into the port of Valletta passes magnificent buildings.
First experience:
bad; customs people prove to be perfect examples of the kind "arrogant ar..hole".
Second experience:
fantastic; the country seems an optimal mixture of English - Arab turn of the century habitat.
Collect some impressions of Valetta, drive then outside to the airport. In order to take off after Sonstwo do not separate simply around it me times to look at.
Rightfully! It has nevertheless actually one of Arab items implemented architecture! Most interestingly; particularly since I had not ever seen such a thing with an airport
The attendance has a side effect however nevertheless still: before my nose is directly there a Swiss air direction homeland. With my considerations in things Greece in the heading (like having there without again by Italy ..) tu' ich 'nen Schritt an den Schalter - und bin unterwegs in die Heimat!
"Heimreise - ein Nebeneffekt??" mag sich der Eine oder die Andere verwundert fragen. Nun ja, diese spezielle Reise ist zu Ende; doch im Kopf werd' ich weiter unterwegs bleiben.
Vielleicht kommt jetzt eine Zeit lang erstmal etwas Anderes; doch wozu hat man denn Träume? Die nächste Reise kommt bestimmt!
may these pages encourage you!
see ya 'on the road'!
Thomas