Coming from Finland the first official act was to organise a visa. Gets issued at customs right in the harbour of Tallinn, the capital of
- Estonia -
( Eesti )
With 800, - EEK (or 100 preferred, -) participates one. Happig, but nevertheless the price worth as turning out should. Particularly since Lettland and Litauen are likewise bereisbar hereby.

Since 1 March ' a passport goes 99 to the entry into the Baltic states - no more visa necessarily! Best thanks for the info. to that radelnden likewise there Tobias Perrey
Had to remain intended some days in Tallin. From this however nothing became. The overnight accomodation question could not be solve to my satisfaction. Most JH's is situated outside. The one, those in the old center is situated has a large sign at the input: " bar of Erootika ". Also not desirably.
However still another Hostel in center proximity gives. From the outside almost fantastisch. Brand-new. Surprise me already somewhat at the publicized prices. (advertisement: starting from 100, - EEK!). With 185, - EEK geht's loosely [ " 100, - EEK dirty and closed " (o-tone) ]


Reception
---
older lady sits in glass case in the middle in the input. Before itself on ' nem tray a multiplicity of codes, all with pear-shaped wooden trailer.
As I einchecke get I one of the many codes and ' nen copied notes with a number written with pencil on it. 416. My room. " and if you rausgehen deliver you the code always here, jaa?" With each smile one sees its two large schneidezaehne; And also that the complete remainder is missing.
Be 20 minute outside before the door and consider. A view of the clock lets me decide to nevertheless still drive on. Go in again and give both again off
" Oohhh... They go?"
100%iges harming feeling.
Would be proudly been me as a guest to have had.

The via Baltika go along.
I again and again come to branches at which I intended a route durch's interior to hit, but for any reasons I drive each time straightforward.

maps:
Eesti, 1:500.000, ISBN 9984-07-066-2
Latvija, 1:500.000, ISBN ???
Lietuva, 1:500.000, ISBN 9984-508-79-x

definitely the best!
all published by:
SIA <<Apgads Jana seta>>
Elizabetes iela 83/85, korp. 2
Riga LV 1050, Latvija (Lettland)
Tel.: +371 7288297 und 7217271
Fax: +371 7828039

South of Paernu a Paearchen of Reiseradler fully loaded comes to meet me. Unfortunately somewhat too much traffic was to be turned in order. (excuse);
Me held from it and begin a discussion has to turn something. The Mrs. (a looking somewhat younger nice young lady) had smiled very friendly. But the type in front (apparently older man; like the looking) a necessarily not radiating (not times absolutely friendly) face made.
Harm. Afterwards feel I genuine regret that I did not turn. With the woman I would very gladly have conversed. The discussions under travelwheel-learn to have always somewhat completely special. But if Mister Griesgram drives in front...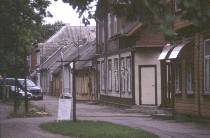 - Latvia -
( Latvija )
First, which I did in Lettland, was turns. What I had intended in Estland whenever. Away of the via Baltika, finally a view in the hinterland throw.
Whereas my Estlandkarte many asphalted roads points had I to Lettland to to it-learn. I did not have to tighten an appropriate card to the hand in Lettland that except trunk roads only one handful of further durchgangsstrassen is asphalted. The remainder runs under crushed stone and sand routes. This became me then the calamity. Using ones strong rainfalls did not let other selection than to change over the asphalted distances.
After I had driven past at Valmiera / Cesis toward Madona still small and smallest Straes, behind Madona nothing different one remained for me than further on bitumen after Daugavpils to roll.

You would have to quite look at interest you Russia? But Vorausbuchungsmodalitaeten, hotel prices, visa provision and also the rouble let take you distance?, then ' Lettland (and also Litauen) visits!
It is there probably not heard so gladly, but did off the large centers not yet too much. And that the result of the Soviet building industry is to be still admired after these few years of the selbststaendigkeit, it is also clear. Suitably also that (particularly in the eastern regions) it is throughout Russian spoken.
Food supply well, is to be counted on no problems!

Still another tip for nature friends:
You come from the Ruhrpott and know ' stork in nest on Telegrafenmast ' only from the postcard? Here you can admire it in Natura!
[ forgives me please the sentimental approach on the good old time...;-))]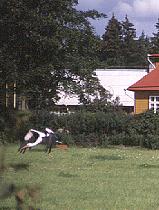 - Lithuania -
( Lietuva )
As the first my diary notes: " Litauen pleases me at first attempt substantially better than Lettland ". Is however because of the briefly better becoming weather. Otherwise there is no all too-large difference between the two countries.
Since the weather becomes just as fast again bad, as it had become better, I remained faithful the remainder of the travel by Litauen for the larger roads.

Oh stop: there is nevertheless a difference: It noticed to me that there is a quite large number of very beautifully created small hotels in Litauen compared with Lettland! Diary: " stops briefly before Utena in a small hotel on (very beautifully!)" - "... then recovers good in the Café to the tanks to the a2 " - "... after I in a small Café / hotel 200m did not enjoy before comfortably a ' half one ' Aldaris [ beer ]!".

word gift
---
Are quite fast toward Kalvarija on the way. At the left roadside I see a girl - about 13/14 - abmuehen themselves an obviously very heavy bag on a daliegendes wheel to get. It times ' nen centimeter cannot do to raise. Accompanied for instance 5jaehrigen is boy of one.
Question in the Vorueberfahren whether I to help is. Make a several times forward-rolling movement and point then to it and the wheel.
Nods three-quarter-understanding. Short view into the rear view mirror, turns and places the wheel off
Interpret for the small boy it is the wheel in front to hold, the girl keeps open in the back and the porter. Access the bag - 60 Kilos determined, can it only so evenly lift - close it above (is open) and heave it on the porter.
Look then briefly to the girl, with asking view of " o.k. in such a way?"
Look into a joyful-radiating grateful face.

" atsch!"
Nod briefly, mount and drive on.

Property not the smallest notion in which language spoke it, nevertheless solve this simple word as much out...
Drive the next kilometers with an unbelievable, boundless internal joy and satisfaction.

It would remain marking only that the dispatching to litauisch - meanwhile relatively briskly goes to Polish border crossing Suwalki (there is still another further).
The further process of the journey led me then to Poland.