- Poland -
( Polska )
Poland erwiess itself as a beautiful country. Above all the wide forest areas and also the many small Oertchen, which I visited, were impressed me much in
To mention I would like also the extraordinary cordialness, with which I was almost everywhere accepted
Hardly the following occurred two days in Poland and already fully bright enthusiasm by the many forests - probably only here possible - small experience:
Accident at night
---
of tents a piece far off the main street in the large infinite width of the forests of east Poland. Already stick-darkly.

Quiieeetsch, Bumm! Are wide awake. An accident on the main street must have occurred. Perhaps someone driven out of the locking place and not watched out. Although, it gave no Knir and cracking cannot be..., before a tree also. Between them ditches and one are situated estimate noises to hear would have had. My thoughts go in disorder.
However, which become people from opposite by the lay-by to help. I remain rather ungesehen in the protection of the large Polish forests and put again to sleep.
A minute later I am not again wide awake. There comes who directly to my tent! And also the smallest trouble does not give itself to be quiet! Are in alarm tendency " like can with so ' ner darkness?? " sudden hear ' I a quiet Quieken that ever more near comes. At one time silence. No Quieken, no movement. Are discovered. Reinserts however immediately thereafter. Quiek, oink, oink, oink,.. quiek, oink, quiek, oink, oink.... If the being correct sounds could be transferred into the human, I would say, it am a complaint song which I hear there.
The picture joins itself only now: Naturally! In of Poland forests there are wild pigs still in large amounts! And in the accident a while ago one of it was rammed! And its partner (or however) runs now grumbling durch's unterholz!
After this nevertheless rather unusual incident equal Poland still another bit pleased me better!
On the search for a beautiful and interesting way direction the south I was encountered a small place named " Kazimierz Dolny ". Was worth ' provided with the nevertheless quite rare symbol for ' an own journey. Well if that even its own journey worth to be is, there would be it nevertheless a dishonor to start it not; it well into my route to build particularly there left itself.
To my large surprise there are also still two youth hostels in the place! A short view of both, I decided for that for instance 1km north of the center. Obviously times a property yard been it is now restored and inside marvelously in good taste in wood arranged!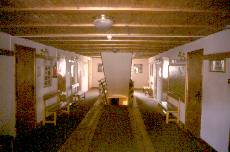 That next the " high Tatra " on the program was, was clear, as soon as I had found the term on the card. Always times again this mysterious names had heard I to date however no notion which behind it hid myself.

- Slovakia -
( Slovenska Republika )
Slowakei - so the short form - many does not even know the country of that, where it is situated.
That should change immediately! Which one finds in the Slowakei? As waer's with the following:
>large number of beautiful caves - many extensive of national park
immense forest areas - High mountains - few traffic on main streets
Youth hostels of a completely unknown type
Well, tastily made?
For people in the mornings reliably the correct does not need the each night their party, for " us " nature lovers however a dream of a country.
Even one with the bicycle experiences one/woman the attraction this small country only correctly. One can be able to observe everywhere to continue around mad prospects to enjoy, is slowly (and quietly) enough over also shy animals, and has also immediately and suddenly contact with (very friendly!) native population.
- Hungary -
( Magyarorszag )
The largest problem after the border crossing that became exchanges of money. The small exchange office at the border crossing was not already closed, a further gave it. Weekend - 3 days without home currency would mean; not so well
Exchanges in the long run at one of the souvenir stands. Course: 900 Slow. Crowns to 4500 Ung. Forint.
Cannot only hope over the desk to have been pulled too much.
From time to time I win a not so beautiful impression: it stinks. Times after this, times after that one, times after still something different one. Traffic, dirt, chicken farm are only some the unpleasant smell producers.
This impression gives itself however completely fast as I ' target Romania ' gives up, from the main street turns and smaller roads drives. Here I get the " correct " Hungary to see to smell (and). Small villages and small towns (very clean and tidy) and above all the large meadows and fields, which indicate the " Puszta ".
It smells after fresh grass, hay, game flowers, and with the occasional channels oppressive sultriness (up to 38 degrees today) even yields a fresh Brise.
As then still another strand of old tracks emerges is clear, where I tents. Between bushes at the tracks, limits from a parallel-led road, which bends in some distance and which crosses tracks. Beautiful workstation.
The tracks are even still used! An old three-part " Railcar " (rail bus) holpert it along.
| | |
| --- | --- |
| | |
Had contradictory information concerning border crossing to Romania and was somewhat irresolute. Also because this would involve the route Bulgaria Greece because of the war in Serbia. The decision, to Romania not to drive turned out afterwards as exactly the correct one - not Romania because of but because I would have missed another, singular and uniquely beautiful country - Croatia!
- Croatia -
( Hrvatska )
... Work that still will take some time ...
..as I'm currently back on the road again..
- Bosnia-Hercegovina -
( Bosna i Hercegovina )
- Slovenia -
( Slovenija )