Northwest Territories
Impressions
There's only one way heading south from the North West Territory. The road straight down to Grande Prairie. That's at least what most tourists will tell you.
Do you have a closer look will you find another - rough but interesting - route. It's the so-called Red-Earth-Road.
But don't underestimate this track! It consists of gravel, dirt and clay and turns into one big mudhole after rain!
It's only a few more kilometer to the campground - when I get hit by a thunderstorm. All of a sudden do I see an enormous wall of rain approching on me. Jump off the bike, catch hastyly my tarpet and try to cover. Right in time! It starts to rain with an unbelievable intensity. Even Hailstones among it! (At 25 degree C!). And the intensity even raises! During the last 30 seconds also additional heavy storm gusts. 3 minutes, and it's all over. Put up my camp at Wabasca River.
Further on on the 'Red Earth Road'. Comments: "Nasty Road" or "It's that deep mud (shows 50cm) if wet!"; An eye-witness (globe traveller with a converted Unimog-truck): "They had trucks to pull out with heavy caterpillars. We managed it only in first gear with fourwheel drive!"
Clay again on the last 10km to Red Earth Creek. Did obviously rain recently. But I'm lucky, at least the tracks of some cars are dried up. The rest is still muddy. Looks like soft soap and glue.
Now officially labeled Highway 88 was the Red-Earth-Road in the area known as one of the worst roads of Canada. Well, I didn't set great store by it - till I got hit by the rain. Afterwards did I know how it is to cycle in deep mud. You can't at all!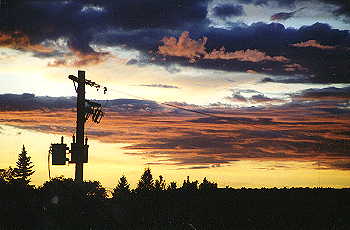 Saskatchewan
"Saskatchewan is totally dreary. Just prairies and fields." Everyone I met described it that way.
That that ain't true at all turned out on my trip through the northern regions.
Right after the border to Saskatchewan might you want to cycle through the Meadow Lake Provincial Park. It's beautiful scenery and some nice little lakes the gravel- and dirt road runs along; The only traffic worth mentioning is in the central section of the park. If you're confident to cycle the park's northern tip towards La Plonge do you experience true nature - on a bushtrack without any traffic.
If you're lookin' for wildlife, you'll find it in abundance. Got to see my first lynx for example! Lots of Otters and Beavers bustle around too.
From La Plonge, there's two possibilities. North and east. Because I didn't feel like cycling a dead end did I continue on east, towards La Ronge. Not paved but still a good gravel road. At least as long as it's been dry.
How it looks like if it's wet? See below.
From La Ronge, there's - apart from another dead end into the far north - only one direction. Further on east, to Flin Flon. But ... I haven't been to the far north for a longer time ... "actually, why not?"
Thought, done.
HOLD, not quite yet. On a last glance at the map strikes an entirely new, completely different, totally unconventionell route my eyes. "(smiling) ... that's what I'll try ... !"
Start asking around right after I arrived in Southend. Doesn't take long and I know that there might be a chance that someone gets me to Kinoosao. Though nothing's definitive.
The bigger the happiness next morning as an officer drops in and tells me I shall be at their office at noon. Two of his collegues will get over to Kinoosao and they'll take me with them!
Don't need to get told that a second time!
It becomes a marvellous boat tour through some overwhelming fjords.
Sit at a shore once again. Tent pitched up, bike parked away - and enjoy a beautiful evening.
Sit on a rock and look out on the lake. A few dragon-flys snatch at mosquitos, small waves get broken at a small rock and leave tiny rings, some waterwalking insects spend themself.
Silence, peace;
The people next door let a canoe into the water and glide noiseless out on the lake.
The moon rises, the color of the few clouds changes to orange, then lilac. My coffee is ready.
No idea, for how long I've been sittin' there. The coffee is long gone.
Once again one of those indescribable evenings.
Manitoba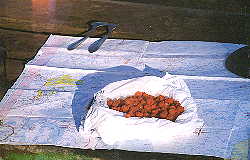 Raspberrys beside the road! Something I couldn't resist!
No wonder to find myself more often in the bush than in the saddle the next couple of day. 'Cause for me, there's no better reward for the done daily (cycling) work than a dessert of freshly picked raspberrys.
Three at night. You've been for a coffee to the donut-shop shortly and on your way home. But ... something's wrong. Strange, the lighting seems to be slightly different than yesterday. Probably drank too much coffee.
You're walking an unlighted short-cut and ... everything seems to be greenish rather than grey-brownish. Very strange. You searchingly turn around, nowhere an appropriate lamp, no greenish neon-advertisement, not even a curtain in a window, that would shine through greenish. " ... But there certainly must be an explanation ..." You stop short - and suddenly get a daring idea. You look up into the sky ... and there it is,

the northern light

But back to my route:
Well, except for the bushtrack Kinoosao - Lynn Lake and a stretch of Leaf Rapids - Thompson did I cycle the rest of my way only on paved roads. Which makes it easier and faster cycling, but also more boring.
Stage by stage: Grand Rapids - Selkirk - Kenora - Ft. Francis - Thunder Bay - Sault Ste. Marie - Manitoulin Island - Toronto.
Although I saw a lot more beautiful places, would have to tell astonishing stories, made some really nice friends ... , will I finish right here by again showing you some - as I think - nice impressions. 'Cause
reading about a journey is interesting,
but doin' all that yourself is a 100times more interesting!
Well then, get your bike, sit on, and just do it. Because the experience can you get only by yourself !