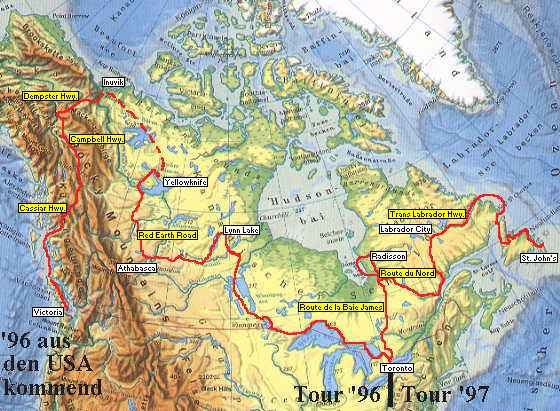 ---
used maps in routing order
---
Victoria & Vancouver Island (BCAA)
ISBN 0-921259-03-4
Even "wood-path'" are listed; full of info; superb map!
British Columbia, Alberta, Provincial Map (Rand McNally)
ISBN 0886403901
Not that practical because both provinces are only covered by big-scale maps. Otherwise section-maps.
Alaska, State Map (Rand McNally)
ISBN 0-528-96056-3
Canadas Yukon Highway Map
Touristinfo, for free
Very good map! Inclusive all campgrounds and detailed mileage.
JPG online map!
Yukon Territory, Travel Map (ITMB)
ISBN 1553418484
Northwest Territory; Official Explorers' Map
Touristinfo, for free
Alberta, Provincial Map (Rand McNally)
ISBN 088640343X
Very acurate and detailed map!
Canoe Alberta
Touristinfo, for free
Good generel map. Though of course mainly for canoeists.
Saskatchewan, Provincial Map (Rand McNally)
ISBN 0886402638
Official Highway Map; very good!
Saskatchewan, Manitoba (MapArt)
ISBN 0-528-27168-7
Doesn't cover the far north; Marks very extensivly campgrounds.
Manitoba, Provincial Map (Rand McNally)
ISBN 0-88640-149-
Very good map, but unfortunately doesn't show all CGs.
Official Manitoba map for download!
Ontario, Official Road Map
No ISBN - to get at local tourist booth'.
Excellent map but doesn't have mileage of bush tracks.
Online download!
Manitoulin Island
Touristinfo, for free
Toronto & Central Ontario Road Map (MapArt)
No ISBN (the edition I got)
Not that good representation of roads, otherwise very good. Inclusive all sideroads and all kinds of parks.
Quebec, Roadmap
No ISBN - to get at local tourist booth'.
Very good map - for most of Quebec. Not suitable for the far north and the most easterly part of the province.
Abitibi-Tamiscamingue
ISBN 2-921584-03-4
Representation of the roads and landscape on an average. But every road with its name!
A cyclist off pavement hardly can do without it.
L'Aventure Baie James
Folder
Small map but very detailed. Specification of all restareas and campgrounds.
Town maps. Best map of the far north.
Quebec's Far North - Nunavik, Baie-James
No ISBN
Rough map but because of the few roads sufficent. Also hardly any alternatives.
Because of the extensive info on its backside important though.
Hydrolic Development and Native Communities of Northern Quebec
No ISBN
Not suitable for travelling, but a good representation of the communities of the first nation.
Map of Labrador
ISBN 0-88901-267-9
Very good and acurate map! Unfortunately no longer available.
Official Highway Map, Newfoundland & Labrador
ISBN 0-920884-56-3
Probably best map for Newfoundland. Labrador s.a.; Though "official" does it have a couple of
mistakes. Like wrong mileage, like that roads follow a different route.
Labrador 1:2.200.000, Newfoundl. 1:868.000, Avalon Peninsula enlarged, city maps.
St. John's & Newfoundland (MapArt)
ISBN 1-55198-525-X
Map of St. John's very good. Map of Newfoundland without small sideroads.
Like to many others also no longer available.
---