| | | |
| --- | --- | --- |
| | Gulf Savannah | |
---
Normanton


Normanton
For those cyclists coming from the south or east, Normanton will be the entrance into the "Gulf Country".
This huge region covers the whole southern shore of the Gulf of Carpentaria and is known as the "Gulf Savannah". I'd say everyone cycling this area will be fascinated by the vast steppe and alluvial land.



Burketown


Burketown

coming up: the Gulf Track ( Burketown - Borroloola )
---

The following route should DEFINITELY BE AVOIDED by newbies. Only very
experienced cyclists should cycle this track !

This track has partly been upgraded during the last couple of years.
Though he degenerates at the same time at other stretches. Therefore:
- get detailed info regarding its condition
- also: how about the river-crossings; passable / impassable

Especially regarding the rivers:
Double-check all your info !
---
Doomagee
Doomagee is suppost to be the town with the highest criminal rate in Queensland. If you just come (cycle) through, you'll believe it!
Nevertheless, if you don't wanna stock up on food in Burketown for the long distance to Borroloola (NT), you should pay a visit to Doomagee's supermarket. And: bicycle traveller / cycle tourists raise some interest. In a positive way!
Kingfisher Camp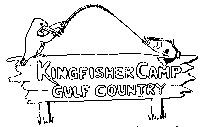 Hell's Gate Roadhouse

Wollogorang


Wollogorang




Borroloola


Borroloola

Cape Crawford


Cape Crawford




---