Namibia - Botswana - South Africa by bicycle
Travelling through the Namib, Kalahari & Karoo deserts
General | The Route | Equipment | The Bicycle | Report 1 2 3 4

Arrived with LTU at Windhoek International Airport in the morning and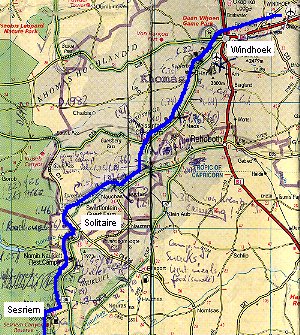 took my time cycling
the 40km into Windhoek.
Leaving Windhoek days
later I choose the C26
heading southwest.
Instead of taking the
famous Gamsberg Pass
did I choose some smaller
side roads. Turned off in
Nauchas and took the
small, relatively unknown
but spectacular Spreets-
hoogte Pass. Only a few
more Kilometer (with
tremendous views of
the Namib!) and you hit
the "main road" C14.
After a relaxing break in
Solitaire on towards
Sesriem. With a nice overnight stop at "Weltevrede Restcamp" about
halfway inbetween.
Being in Sesriem you should definitely pay a visit to the "oasis"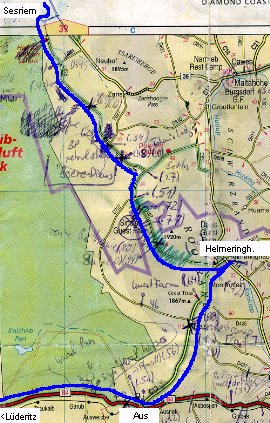 of
Sossusvlei. I then followed
the D826 through some
absolutely magnificent
scenery - the enormous
sand dunes of the Namib
desert on one side, majestic
mountains on the other.

Two days in Tolou's Lodge,
then a brief stop at Betta.
Didn't cycle up to the
famous Duwisib Castle,
though.Took the D407
and went to Helmeringhausen.
Small town perfect for
a relaxed afternoon and
some basic shopping.

Grandiose scenery along
the C13 to Aus. The
road to Lüderitz - now
tarred - is like a 120km
downhill. Aus at 1500 Meter,
Lüderitz at sea level.
After a couple of days in Lüderitz (one night camping, the rest at a
backpacker) across to Keetmanshoop. Nice tar road all the way.

Retraced a few Kilometer to the turn-of of the Naute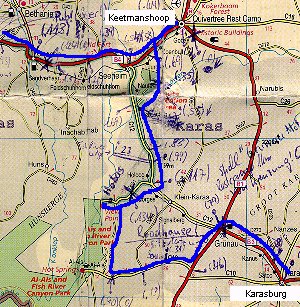 Dam road.
Another 34km of good
gravel road and you're
back on to the "main"
road C12.
Headed south towards
the Fish River Canyon.
Didn't stay in Hobas,
though. Just visited
some of the lookouts
and carried on south-
wards on the D324.
Didn't turn into Ai-Ais
but turned east (C10)
and went to Grünau
and Karasburg.
It was here that the whole trip changed.
Wanted to travel from Karasburg to Aroab, then crossing over into
South Africa and visit the Kalahari Gemsbok National Park. From there
up into Botswana, taking the Trans-Kalahari-Highway up to Maun.

But my second passion - travelling by train (if the trip is somewhat
unique, passes through extraordinary beautiful countryside or the
like) - cut in and I took the train back to Windhoek.



Started off from Windhoek again. This time heading east into the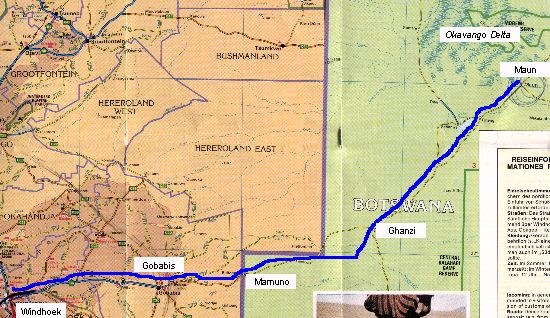 Kalahari desert. Mostly farmland on the Namibian side (fenced),
in Botswana almost without exception scrub and bush savannah.
The only towns between Windhoek and Maun are Gobabis and
Ghanzi. Not counting a hand full of tiny little settlements.
Nowadays all tar road.



And it was also here in Maun, that I met this certain girl because of
whom I decided to stay a little longer than I usually do (that being
about 3 years by now) ...



The tour continues! The following is a map with the route I'm going to take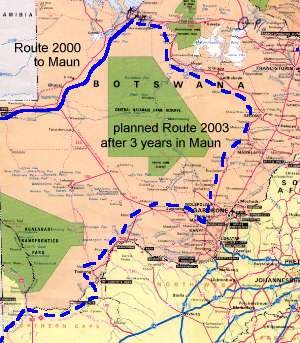 in a just few weeks time.
Kinda three-quarter
around the Kalahari
desert, into Namibia to
connect with my route
of 2000 in Karasburg.
Heading south afterwards
into South Africas Karoo
semi desert. With a little
bit of luck I may even
see the famous wild-
flowers in bloom on the
way back up into
Namibia again.